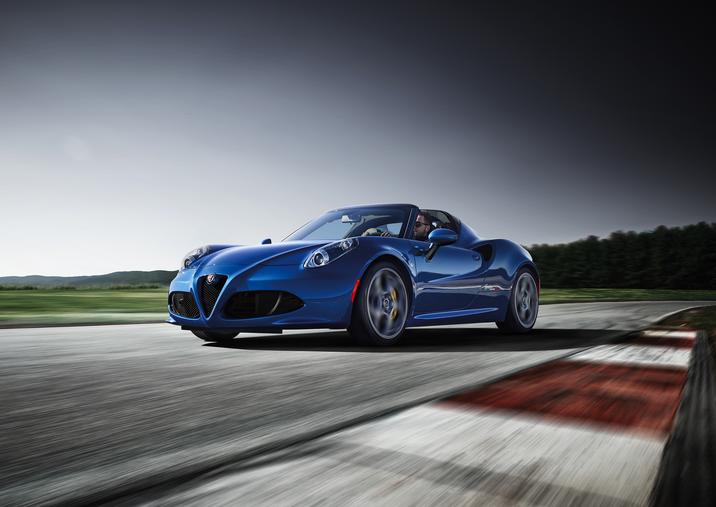 During the Chicago Auto Show, Alfa Romeo unveiled an exciting new limited edition model: the 2020 Alfa Romeo 4C Spider Italia, and it will be as exclusive as they come with only 15 vehicles being produced. While most auto show visitors only dream of owning one of these limited editions, the debut also gave the Alfa Romeo company a chance to confirm a 2020 North American run for the Alfa Romeo 4C Spider.
So what makes the 2020 Alfa Romeo 4C Spider Italia so special? Well for starters, it is handcrafted in Modena, Italy, ensuring the Italian DNA from the start. It takes the memorable look of the model to a new level, thanks to an exclusive Misano Blue Metallic color, piano black accents for the rear diffuser and front air intake, and specialized graphics for the livery. Lucky owners will even get a numbered plate on the center console, telling them which one of the 15 available vehicles is theirs.
Luckily for the rest of us though, a lot of what makes the limited edition version of the model special will still be available in the 2020 Alfa Romeo 4C Spider, coming soon to our Highland Park, IL Alfa Romeo dealership. Drivers can expect innovative technology like an all-aluminum turbocharged engine, which helps provide supercar-like performance, as well as driver-assist features such as rear park sensors and a rear backup camera. And of course, every 2020 Alfa Romeo 4C Spider comes with a distinctive Italian flair in the styling.
You don't have to get your hands on one of the limited edition versions to enjoy the excitement of the 2020 Alfa Romeo 4C Spider. Learn more about what to expect when you talk to one of our expert Alfa Romeo dealers. Chicago drivers can get in on the excitement right here at Fields Alfa Romeo.